I love working directly with children and young adults to help them develop their already powerful storytelling skills.  I run a variety of interactive workshops in schools and libraries including making
comics
,
picture books
,
character & story development
and
creative writing
.  Here are a few samples below! 
Turn Your Boring Life into a Comic! 
Got up, ate cereal, ignored your little brother.  I know, I know - not exactly thrilling stuff.  But what if you could turn the details of your Very Boring Life into a Very Exciting Comic? In this workshop, find out how to turn yourself into a cartoon character and write a real-life story (that's also a bit made-up).
Got a rumble in your tummy?  That'll be your Inner Monster.  It's time to let them out!  Join author and illustrator Sarah Bowie to find out how to release your Inner Monster in this drawing and comic-making workshop.  We promise you'll have a monstrously good time!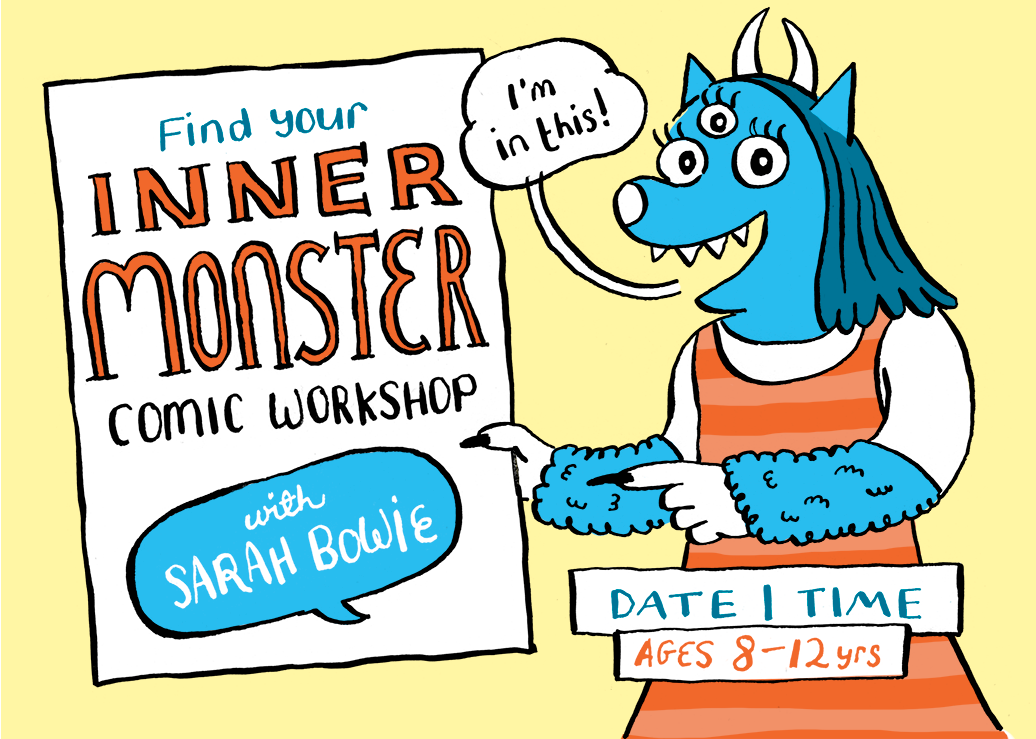 The Animal Mashup Drawing Jam 
Excuse me, I think you've got my bum.  Hey, you've got my head! Could I have my legs back please?  Relax everybody. All in good time.  For now, join author and illustrator Sarah Bowie as she demonstrates the magic of mixed-up animals in this group drawing workshop.  Be warned, things are going to get a little bit crazy in the Animal Mashup Comic Jam.
Some other workshops I offer are:
- Book Readings and Draw-Alongs
 (5-8 years) – based on one of my picture books, 
- Character Creation & Storytelling 
(8-12 years) – explores character building and plot development, 
- Observational Storytelling
 (12+ years) – takes an in-depth look at using what's around us as material for creative writing & drawing, and
- Author/Illustrator Talk
 (10+ years) – a behind-the-scenes look at what goes into making a book, from the early concept stage, to working with a publisher. 
Workshops can be delivered online or in-person (if guidelines allow), and customised to suit your needs.  
For more details, and an overview of all the workshops I offer, please download a copy of my latest brochure below.
I am certified by the Department of Education as an arts educator in the Teacher Artist Partnership Programme, which is a government initiative to enhance arts education in Ireland.